Building district capacity to meet the urgent student mental health crisis.
Countless headlines fill my daily news feed that call out the escalating student mental health crisis. While the attention on this critical problem is important, it is time to switch our focus to scalable and affordable solutions that drive change. Not "check-the-box" solutions - but ones that provide the transformation students need to learn- without placing the burden on already exhausted staff.
Why? Because students are behind academically (per the latest NAEP report), and students can't learn when they are struggling with anxiety, depression, lack of focus and overwhelm. And the headlines are right - over 88% of students are dealing with one or more of these non-academic barriers to success — and the time to support them is now.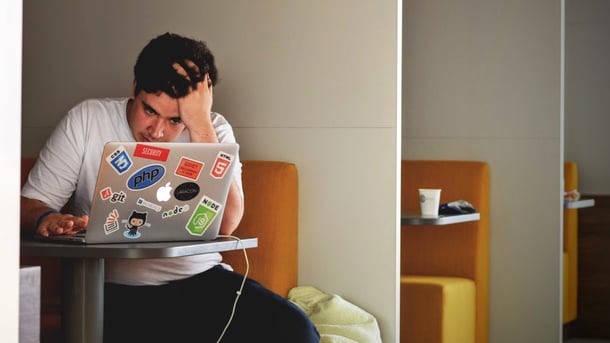 As a licensed school counselor and therapist, I get it. School counseling teams are being stretched to their limit and were never designed for what they are being asked to do today — schools just don't have the capacity to meet the need. With caseloads of over 500 students for most counselors, combined with the rapid rise in students reporting anxiety, depression, and school avoidance, districts are faced with a demand for services beyond the capacity of most student support services teams.
After all, responding to student mental health issues needs a personalized approach — and that requires more licensed professionals, which is a real challenge when districts are facing candidate shortages and hiring freezes.
The mental health crisis is much greater than a school's capacity to fix it. Putting the "solve" on administrators, classroom educators and school staff, who are already stretched to meet escalating mental health needs, while also dealing with their own exhaustion and wellbeing, cannot be the only answer. EmpowerU increases district capacity to meet this need with a proven and evidence-based approach that works- without putting more on your team.
— Michelle Langenfeld, Former Superintendent of Green Bay Schools
More help means more capacity
When I was a school counselor, I knew that many of my students needed more intensive support to manage their anxiety, depression and ADHD. So often, I found myself writing 504 plans to accommodate these challenges, when many of these students actually needed daily support to learn coping skills to deal with these lifelong challenges in a positive way.
And while building new habits requires daily attention, I just didn't have the capacity to check in with students that often. Although I tried. I started a pilot using technology to deliver a daily skill-building lesson through a document with a prompt for the student to apply what they just learned by answering reflection questions. I would get notified when the student completed their daily work and tried to respond quickly when I received the notification. I knew that timely feedback was important to learning and behavior change.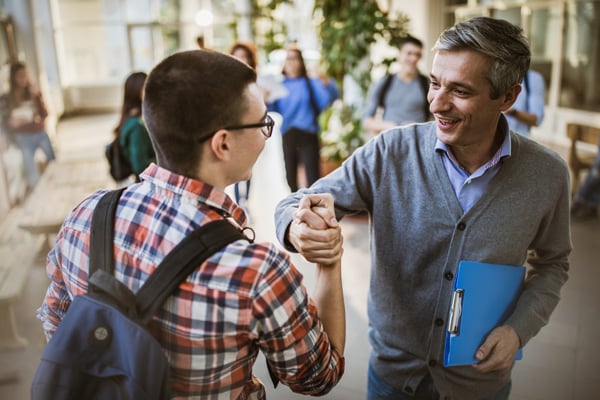 And guess what? My pilot worked for the handful of kids involved. Grades were up. Attendance was up. Students were more confident. But it was not scalable. I did not have the time to deliver 1:1 support each day on top of all I was already doing. So, I challenged my own thinking…how could I take this model to scale? In 2015, I dedicated my career to developing a solution that school counselors and support staff could use to deliver that daily skill-building lesson with support to fuel student change — all while looping the school staff in through live dashboards. EmpowerU would deliver the daily lesson and support, and the school counselor could see the progress and scaffold the growth when they did have time to check in with students. And that is just what we did.
What we know about behavior change
Changing behavior, especially for students, takes time and daily attention. It can't just be taught. It needs to be applied and internalized. It requires a personal connection.
During a recent EdWeek webinar, I had the opportunity to talk with Natalie, a student at a high-performing suburban school where staff had seen a rise in anxiety and depression even before the pandemic. After talking with her counselor, Natalie enrolled in EmpowerU's online credit-bearing elective resilience course through her school as a sophomore. She learned to set small personal daily goals and her virtual EmpowerU motivational coach was alongside her every day to provide support and feedback through the program portal.
Students learn to set daily goals with the encouragement of a 1:1 motivational coach.
Natalie learned how to identify barriers and negative thoughts and replace them with kinder, more productive thinking. She learned to turn problems into progress. With encouragement from her EmpowerU coach, she gained momentum. Today, she is a senior, thriving in challenging courses and eagerly looking forward to graduation. And she has learned coping strategies for the stressful times that are part of life.
"I over-stress myself," she said. "So, what I really learned was to stop — notice what I was feeling and thinking — and replace it."
That's what we call recruiting your inner coach to replace your inner critic, and it's one of the five key skills students learn in EmpowerU that helps them take charge of their thoughts, emotions and behaviors and become more focused and confident.
Natalie said what was different about the EmpowerU online class was that her 1:1 EmpowerU coach that served as her instructor actually reached out and encouraged her every day. Natalie had the ability to use text to communicate with her coach via the EmpowerU platform. "It was really different from other online classes. EmpowerU is the only online class I've taken where I've had a strong connection with the instructor - more so even than many in-person classes."
Natalie talked about being hard on herself. Prior to the program, she would complete one task and think negatively about how far she was from her goal. Her EmpowerU 1:1 licensed coach would immediately reply to her message, acknowledge what she had accomplished and encourage her to keep working.
An evidence-based approach
EmpowerU's approach focuses on small, bite-sized changes that can be made to work toward personal, emotional, social and academic goals. Our affordable, credit-bearing online course combines personalized instruction with daily motivational coaching. And we track progress within each goal area using the Transtheoretical Change Model.
Most importantly, we partner with school staff — counselors, MTSS coordinators, teachers and school principals, without asking for a heavy lift. We know it is a question of capacity, and capacity is a problem we can solve.
Debbie Kimlinger, the lead school counselor at Natalie's high school is grateful for the resource. Wayzata High School annually enrolls over 100 students a year in EmpowerU. "The students who I've been working with have shown improvements," she said. "It certainly has impacted how they feel about each other and themselves. They learn really valuable skills."
At EmpowerU, we are powered by our heart-centered, licensed coaches that provide the robust and highly personalized support that fuels student change. Delivering EmpowerU through schools creates the critical time and place for students to engage in their most important work — their wellbeing and mental health. Our live dashboard provides counselors with real-time insights into student progress and growth that allows them to connect more deeply when they meet with students as part of their regular caseload. In short, it expands district MTSS capacity.
So. what's next? How can we help you expand your capacity?
Expand your capacity through partnership
At EmpowerU, we partner with districts to expand capacity without further burdening teachers and counselors.

If you've been considering bringing EmpowerU to your district, don't wait. Talk to one of our consultants and learn how to implement our Tier 1 turnkey program or Tier 2 interventions this year.
If you already partner with EmpowerU, thank you! Let's dig deeper into your data and get vital support to even more students this fall.
Please know that we genuinely care about you. You are doing difficult and important work — thank you.
It matters a whole lot right now.
ABOUT KATIE DORN
Katie Dorn, MA, LSC, MFT is co-founder of EmpowerU and an experienced licensed school counselor and therapist. A mother of seven grown children and a successful entrepreneur and author, Katie is a strategic thinker with an ability to connect and build functional and productive teams. Her passion for finding effective ways to help students and families with mental health obstacles has fueled her work for EmpowerU since 2015.
ABOUT EMPOWERU
EmpowerU's highly personalized, data-driven Tier 1 and Tier 2 solutions equip students to be resilient, self-directed learners and reach their goals — without additional hires or a heavy lift from schools. The program provides each student with interactive lessons and personalized coaching, pairing technology with brain research in a unique way that supports students, empowers their growth and reduces feelings of anxiety and depression. Multi-year data makes it clear: nobody understands Multi-Tiered System of Supports (MTSS) and approaches student success the way EmpowerU does.