Over the last several months, it has become clear that the students and adults who walk through school doors every day continue to struggle with low motivation, disruptive behavior and a broad range of mental and emotional stress. The pandemic has changed, but its effects on mental wellbeing have not lifted.
Superintendents, counselors and principals are searching for solutions that can make next year less challenging for everyone. These thoughtful leaders know that next year must take a turn for the positive, and they hope to:
Increase student motivation
Improve attendance
Reduce problem behaviors and discipline referrals
Support the wellbeing of students, teachers and staff
Schools have an opportunity now to address all of these challenges in a lasting way. An evidence-based social-emotional learning, or SEL, program can do this — making it a critical learning focus for all students, particularly those who had the fewest academic opportunities before the pandemic.
Offering the program this summer is the perfect way to invest ESSER III funds and lay the groundwork for a real fresh start when school starts this fall.
Motivating

Learners

Is

a

Growing

Need

—

And

Summer

Is

the

Perfect

Time
The need to support student mental health isn't new. In fact, the National Institute for Mental Health found that a third of U.S. students struggled with attention issues, trauma, anxiety and depression that interfered with learning before the pandemic even began. But all the isolation, uncertainty and disruption of the pandemic only made things harder.
Over the past many months, virtually every conversation I have with school leaders is focused on the whole child. And in these discussions, I've heard a deep concern that the escalating need for social and emotional support goes well beyond what they are prepared to handle.
The good news? Summer is coming, offering the perfect opportunity to reach students when they are more relaxed with fewer stressful demands. And with a data-driven turnkey SEL program, any school, large or small, can increase services to students without the need to hire more people or ask exhausted counseling teams to do more.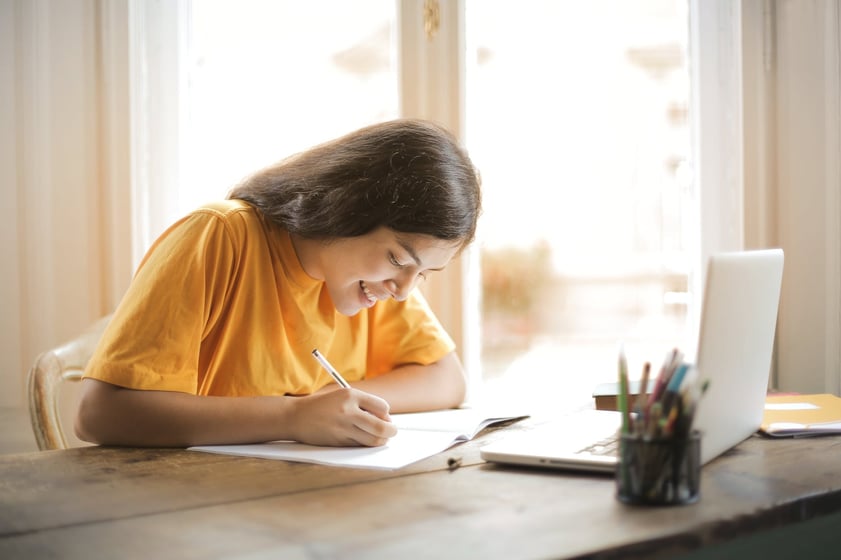 Build Resilience for Students With a Summer SEL Program
The professionals who work in schools see it first hand every day: the need for student SEL and mental health support has skyrocketed in the last two years.
And anyone who has worked in schools knows all too well that students who are overwhelmed by things in their life will struggle as learners. Child or adult, we have a hard time learning or doing great work when our lives feel out of control — family, finances, health, social circle, you name it.
At their core, SEL programs equip students with a specific set of skills that help them navigate whatever life brings. In data-driven SEL lessons, students learn and apply skills in problem solving, communication, conflict resolution and positive mindset. This approach builds resilience for students with increased confidence and motivation.
EmpowerU helped me control my stress and motivated me to do productive things this summer. I think more positively about myself now and feel more sure of myself, too.

—Middle School Student, Summer 2021
Social-emotional and mental health are foundational to student learning outcomes. Decades of scientific research has shown that students who receive this support have higher grades, fewer absences, fewer arrests and disciplinary issues, and graduate and attend college at higher rates.
SEL for Adults Improves Teacher Resilience and Wellbeing
These days, it is really hard to ignore the fact that teachers, administrators and school staff are navigating a professional crisis. As resignations pile up, school leaders are looking for any way to keep their teams together.
There's no question that educators have been overwhelmed by uncertainty, anxiety and depression — not to mention their students' needs and difficult behavior. And just as students with high stress will struggle to learn, exhausted educators will be unable to reach their full potential as a teacher.
Outcomes-based SEL for adults can help educators improve healthy coping skills for greater confidence and resilience. Schools that encourage educators to complete a professional development course focused on their own wellbeing also can build a common language to discuss social-emotional health.
This course was so helpful in teaching me strategies to manage my stress and prioritize what I need to to reach my goals. I can allow my stress to take over sometimes, so learning some new strategies to help me pause, assess, and manage my stress has been great."

— Educator Course Participant
As more educators receive data-driven SEL support, they will also gain the mindset and skill set needed to support all students with more positive behaviors.
Use your ESSER III Funds for Summer SEL Programs
There has never been a better time to invest in data-driven, outcomes-based SEL programs — and taking that step has never been easier to afford. With ESSER III, the federal government earmarked billions of dollars to help states and districts overcome setbacks created by the pandemic.
This summer, districts can use ESSER III funding to add turnkey, holistic SEL solutions for students and educators — without burdening existing staff or hiring more people. This is the ideal opportunity to start the 2022-23 school year with students who are ready to learn and educators who are at their best. Affordable summer SEL puts all of this in your reach.
---
ABOUT KATIE DORN
Katie Dorn, MA, LSC, MFT is co-founder of EmpowerU and an experienced licensed school counselor and therapist. A mother of seven grown children and a successful entrepreneur and author, Katie is a strategic thinker with an ability to connect and build functional and productive teams. Her passion for finding effective ways to help students and families with mental health obstacles has fueled her work for EmpowerU since 2015.
ABOUT EMPOWERU
EmpowerU's highly personalized, data-driven SEL Tier 1 and Tier 2 solutions equip students to be resilient, self-directed learners and reach their goals — without additional hires or a heavy lift from schools. The program provides each student with interactive lessons and personalized coaching, pairing technology with brain research in a unique way that supports students, empowers their growth and reduces feelings of anxiety and depression. Multi-year data makes it clear: nobody understands Multi-Tiered System of Supports (MTSS) and approaches SEL the way EmpowerU does.