When school leaders think about ways to increase school supports for student mental health, frustration can quickly follow. Expensive. Slow. Risky. Unpredictable. The traditional social-emotional (SEL) program for schools to help more students — particularly those in Tier 2 who need a higher level of care — can be challenging when the need is great and resources are stretched thin.
I've worked in school systems, and I get it. But a better, affordable and reliable solution does exist to help schools support more students quickly. And based on what we know about students in 2021, it's time to do just that.
The post-pandemic challenge is real.
As COVID-19 vaccines are increasingly available and community spread slows, most schools across the U.S. are preparing to welcome students back in person this fall. Seeing kids in classrooms will be a long-awaited change that could feel refreshingly normal. But the students you'll be welcoming back have been through a lot.
Researchers tell us that the collective trauma of the pandemic has caused already high mental health obstacles among school-age youth to soar by 25%. This hurts your students' ability to focus and learn, whether they are anxious, depressed, disengaged, overwhelmed, or discouraged after a year filled with the stress of unpredictability and loss.
As a district leader or student support professional, you know that every dollar invested in SEL will deliver a 11x increase in your student's academic outcomes. And when it comes to providing these supports to your students, the ideal solution will be easy to implement, affordable in the short and long term, and reliably effective at re-engaging and motivating struggling students.
EmpowerU is designed to meet what school districts need, to deliver what students need. We provide schools like yours a turnkey SEL program that consistently delivers transformational support and outcomes, without burdening existing staff members or creating a need for additional hires.
An approach that works.
Our team has reimagined the traditional delivery of SEL supports in schools. As a result, EmpowerU increases student access to licensed professional mental health support and improves student outcomes, such as persistence, grades, and attendance.
Our program combines technology and brain science to help students master core SEL concepts using a combination of skill-building lessons and one-on-one online coaching by master's-level therapists. These are delivered to students in daily doses through the simple, user-friendly EmpowerU portal.
Your students can't wait.
We know the time and effort it takes to hire and onboard new staff members, or to adopt and roll out a new curriculum or professional learning approach for your team. EmpowerU's turnkey program is simple and easy to implement. Being able to move quickly gives you the ability to meet your students where they are — with historically high mental health barriers to learning — when they return to classrooms this fall.
Your team is overwhelmed.
EmpowerU is the only effective SEL solution that doesn't require a heavy lift from your existing staff or force you to hire additional people. In fact, school counselors, psychologists and social workers tell us that they love partnering with EmpowerU. The school-based team receives a weekly report on each student in our program. This gives them insight into each student's goals and progress, which helps make their typical student appointments more even more focused and intentional.
And keep in mind that teacher mental health has suffered in the last year. While your teachers make great adult connections for students, the work of delivering the intense mental health and coping supports needed now should rest on the shoulders of your school's counseling and mental health team, or a partner specializing in evidence-based strategies.
There's no room for error.
When a student is struggling, every day they miss comes at a cost to the school and, most significantly, to the student. And when your students' needs are soaring, you need a partner you can trust to work quickly and deliver results. Your solution must be easy and fast to get started, with a data-rich track record of success delivering outcomes with thousands of students. In 2021, you also need something that meets your students' needs in person, virtually, and in any combination of the two!
EmpowerU is the only turnkey SEL program you will find that delivers measurable student transformation and increased academic outcomes — at a time when it matters most.
Proven results that last.
EmpowerU is designed to be a transformational experience with long-lasting value for each student. We didn't want to be just another check-the-box solution that left school leaders wondering if they made a wise investment. Instead, we take students from a place of deep discouragement, disengagement and lack of motivation, to a place of resilience and persistence — in a way that lasts.
"EmpowerU is more than just talking about problems; it gives students tools to engage in the process of self-improvement and equips them to overcome obstacles — now and in their future." — Bill, school principal
In the four years we spent building EmpowerU, we dug deep into the research. This is how we acquired the data and knowledge we needed to create something that would change the trajectory of a student's life. And that's the work we do today.
How EmpowerU works
Our approach has two parts — bite-size daily lessons and daily one-on-one coaching — based on what we learned in our research about the elements needed to create enduring change.
Students begin by working with a licensed mental health professional EmpowerU coach to identify and set goals in four domains: personal, emotional, social and academic. Then, as the course continues over the next 12 weeks or so, students complete brief online lessons and meet with their coach each day to discuss the lesson and how it could apply to each of their four goal areas.
We propel student transformation by taking what the student learns in a daily bite-size lesson and then using personalized expert coaching to apply the lesson to the obstacles in their life, in a deep and meaningful way.
How we measure success
Our approach focuses on small, healthy changes that students can make. We use an assessment tool based on the widely-used work of Prochaska and DiClemente, known as the Transtheoretical Model or Stages of Change Model. As students go through the EmpowerU course, we track how many phases of change they complete toward each of their four goals.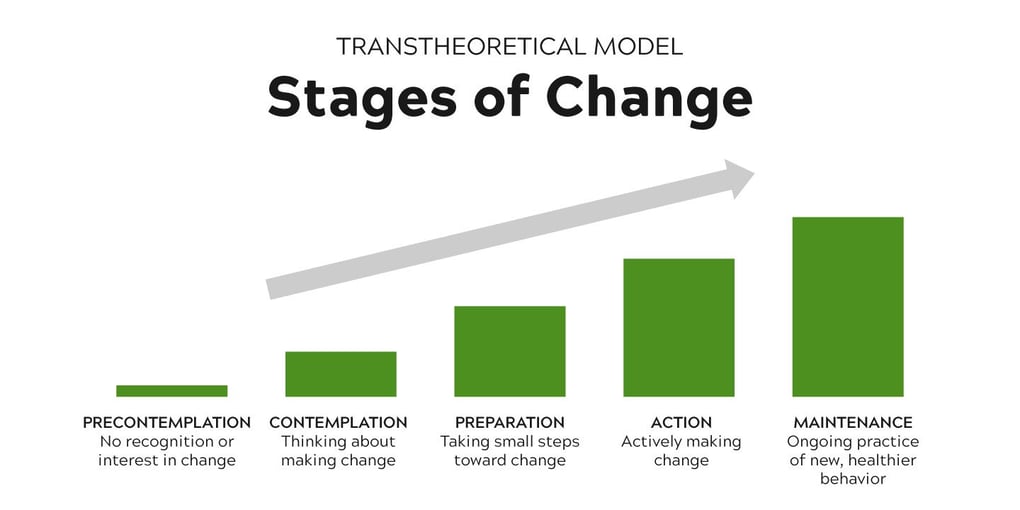 From the first day of EmpowerU to the last, our students go from thinking about making goal changes (Contemplation Phase) to actively working on their goals each day (Action Phase). According to our three-year data study, EmpowerU students typically move through 1.8 stages of change — nearly twice the average change rate — in all four of their personal, social, emotional and academic goals. This means our students went from just thinking about making changes to actively working on their four goals each day.
We've worked with thousands of students, and we are quickly growing nationally — because of our data and because of our results.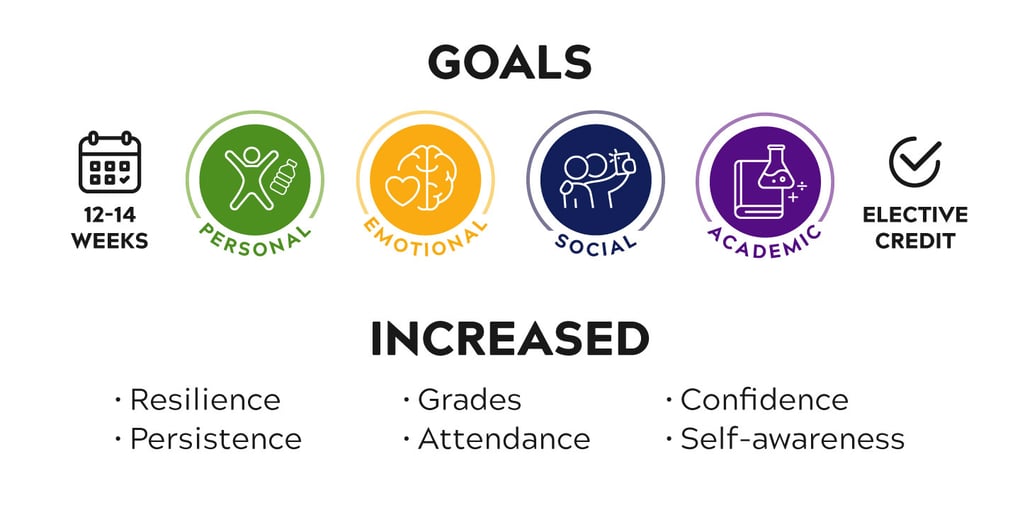 The role of your school-based team
Instead of a school- or district-wide implementation, EmpowerU is based per student seat, making it scalable and completely customizable to the changing needs of your students and your school.
School teams identify students for participation in EmpowerU, and we are happy to guide your team through that process. The EmpowerU course typically lasts 10-14 weeks and can begin and end at any point during the quarter, semester or school year.
Students often tell us that EmpowerU is a highlight of their school experience, even for those who were a little less enthusiastic at the start. Why? They feel more confident and optimistic. More than 93% of students who complete our course make a dramatic shift from discouragement and anxiety to improved wellbeing, motivation and hope, and 98.5% would recommend the course to a friend.

A scalable solution you can afford.
SEL programs should serve the changing needs of students and fit into a school or district budget for the long term. EmpowerU was designed with these budgets in mind. Explore the many eligible funding sources, including ESSER I and II, GEER and GEER II, Title funding and Medicaid, as well as other temporary and long-term programs.
EmpowerU also helps school systems reduce spending on special education testing by providing a data-driven pre-referral tool that reduces referrals. Our approach simplifies and supports a healthy student experience and helps districts reduce the costs of more costly intervention, including special education testing and instruction.
We know life is hard — 2020 taught us that, if nothing else. We help students to learn how not to give up or run away when things get hard, to know that they can power through. That's what colleges want. That's what future workplaces want. And that's what we do with schools and students at EmpowerU.
---
ABOUT KATIE DORN
Katie Dorn, MA, LSC, MFT is co-founder of EmpowerU and an experienced licensed school counselor and therapist. A mother of seven grown children and a successful entrepreneur and author, Katie is a strategic thinker with an ability to connect and build functional and productive teams. Her passion for finding effective ways to help students and families with mental health obstacles has fueled her work for EmpowerU since 2015.
ABOUT EMPOWERU
EmpowerU's highly personalized, online social-emotional learning program helps young people replace anxiety and depression with resilience and confidence, fueling student transformation without a heavy lift on staff or need for additional hires. We provide each student interactive lessons and personalized coaching, and we pair technology with brain research in a unique way that supports students and empowers them to grow. Our multi-year data makes it clear: nobody else understands Multi-Tiered System of Supports (MTSS) and approaches SEL the way we do at EmpowerU.